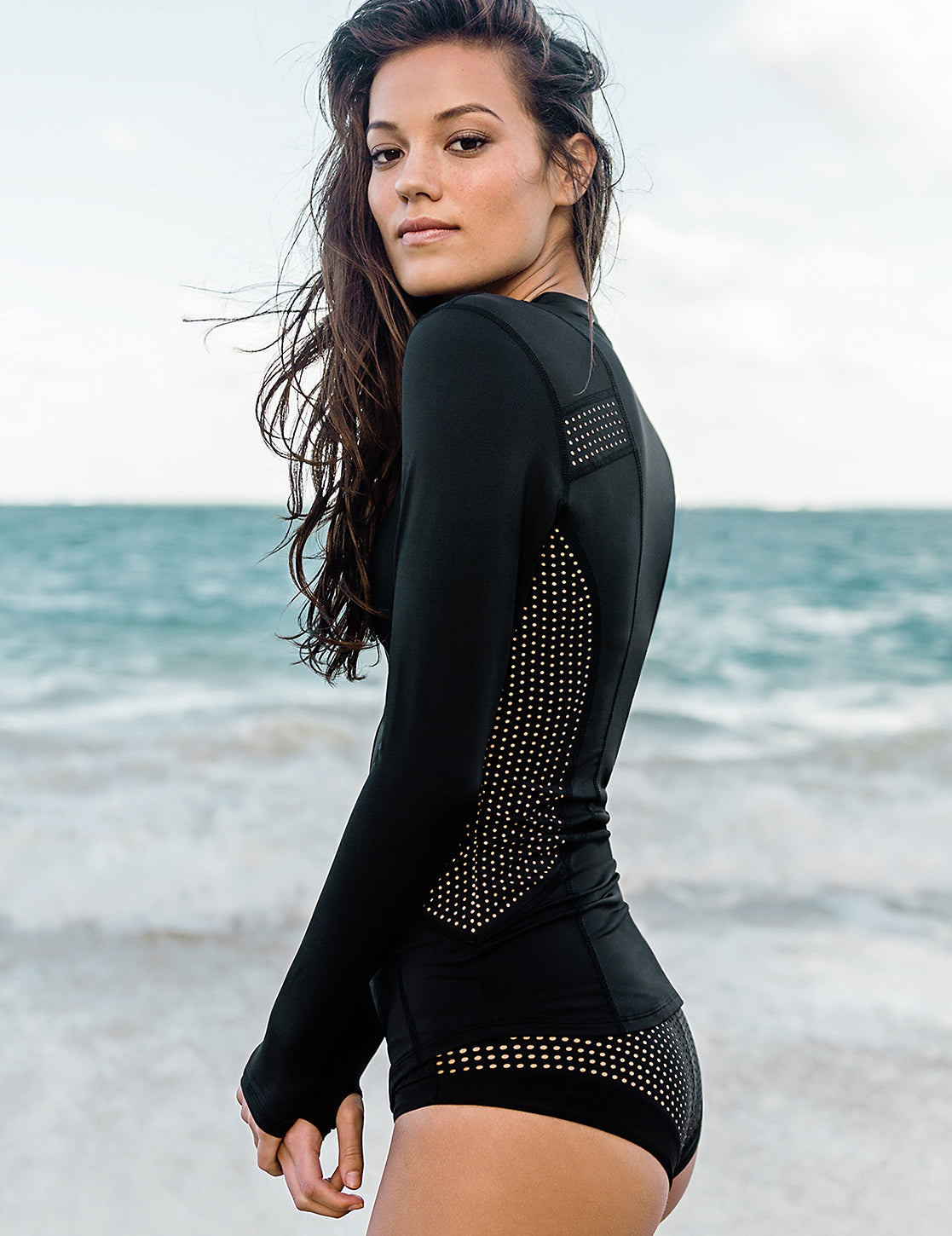 OUR JOURNEY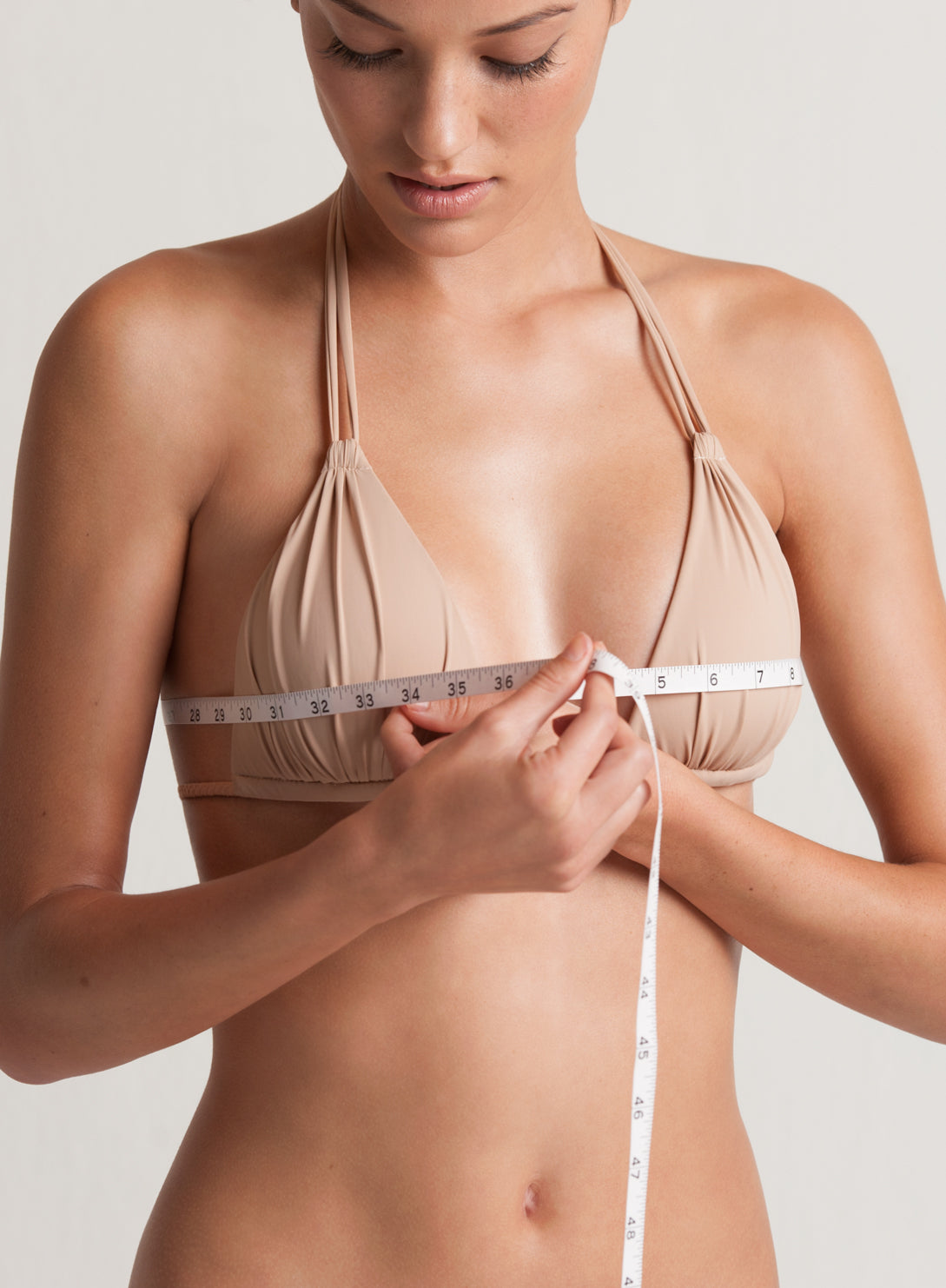 Fit is foremost
Too many swimsuits fit poorly because they are designed and fit on models with "perfect" bodies. We fit our pieces on hundreds of women of many shapes and sizes to achieve our exceptional fit. All our pieces are sold as separates to accommodate different body types and we are continually developing new styles to serve as many women as possible.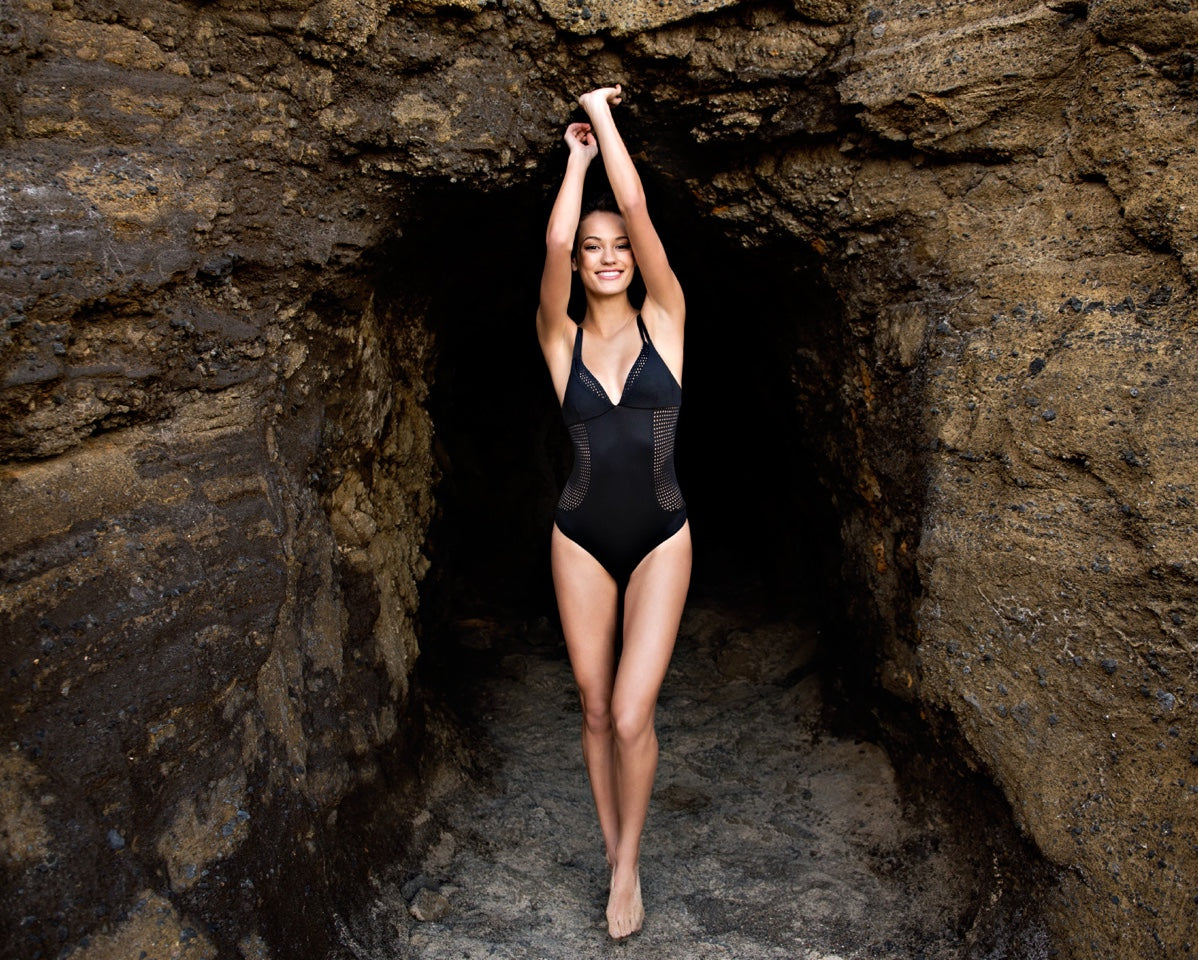 Our fabric is your second skin
We put the world's finest luxury fabrics and the most innovative performance knits to the test before deciding to create our own proprietary fabric that combined the best of both: silky soft hand feel, exceptional support, optimal compression, quick-dry ability, UPF 50+ protection and outstanding stretch recovery. We use this fabric for both the outer layer and for the inner lining, giving you a super smooth look and more support than a typical swimsuit.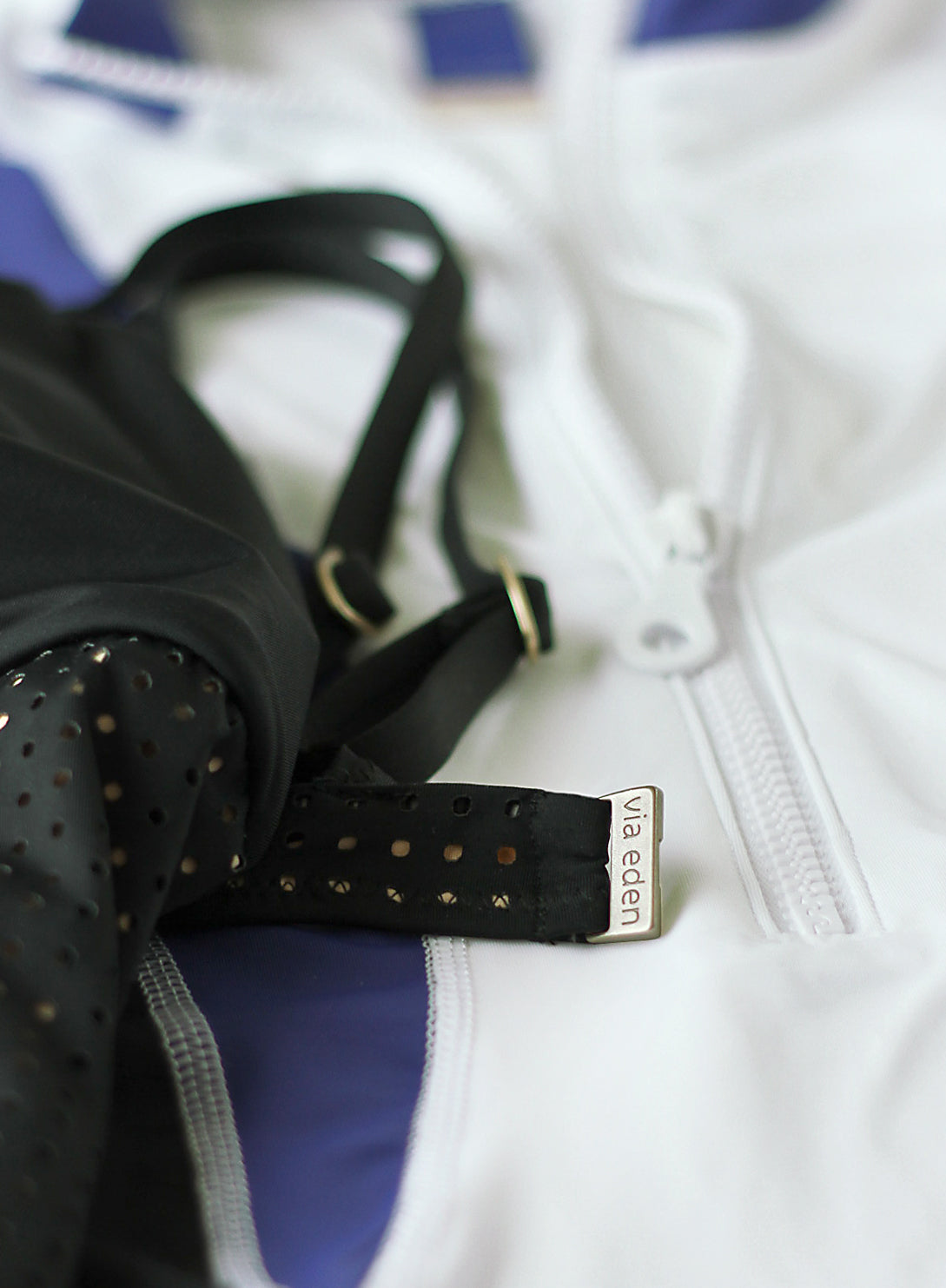 Craftsmanship cannot be compromised
We carefully consider every component and construction technique used to craft our swimwear. We choose excellence over cost and partner with best-in-class suppliers and factories who share our exacting standards. We use Riri zippers, German hardware made with real gold and proprietary elastic that doesn't dig or pinch. Our life-changing bra cup pads were created for us in partnership with the leading American manufacturer of bra pads, whose products we've personally used for years. Our skilled craftspeople sew our pieces with flat and hidden seams and clean finishing to ensure the smoothest fit and feel.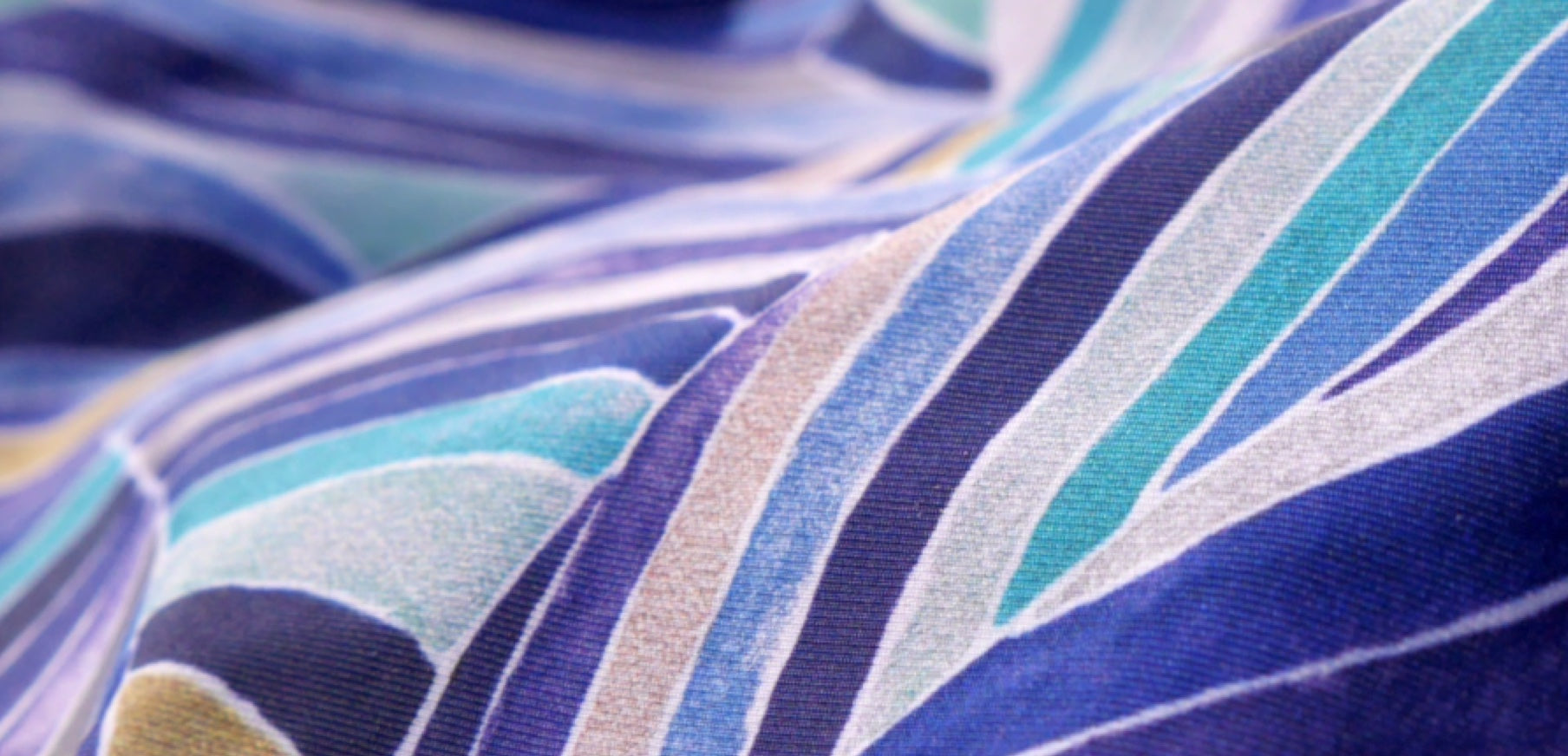 Inspiring design is artisty and ingenuity combined
We deeply value the vision, talents and hard work required for our designers and highly skilled craftspeople to create every item we share with you. A fine artist hand paints all our prints, which were created to mix and match. Our bikini bottoms are designed to be reversible giving you even more styling options. Our packaging was painstakingly designed to be both luxe and reusable. We strive every day to gracefully bring form and function together in a way that inspires and delights, and celebrates the timeless beauty and ingenuity of true artistry.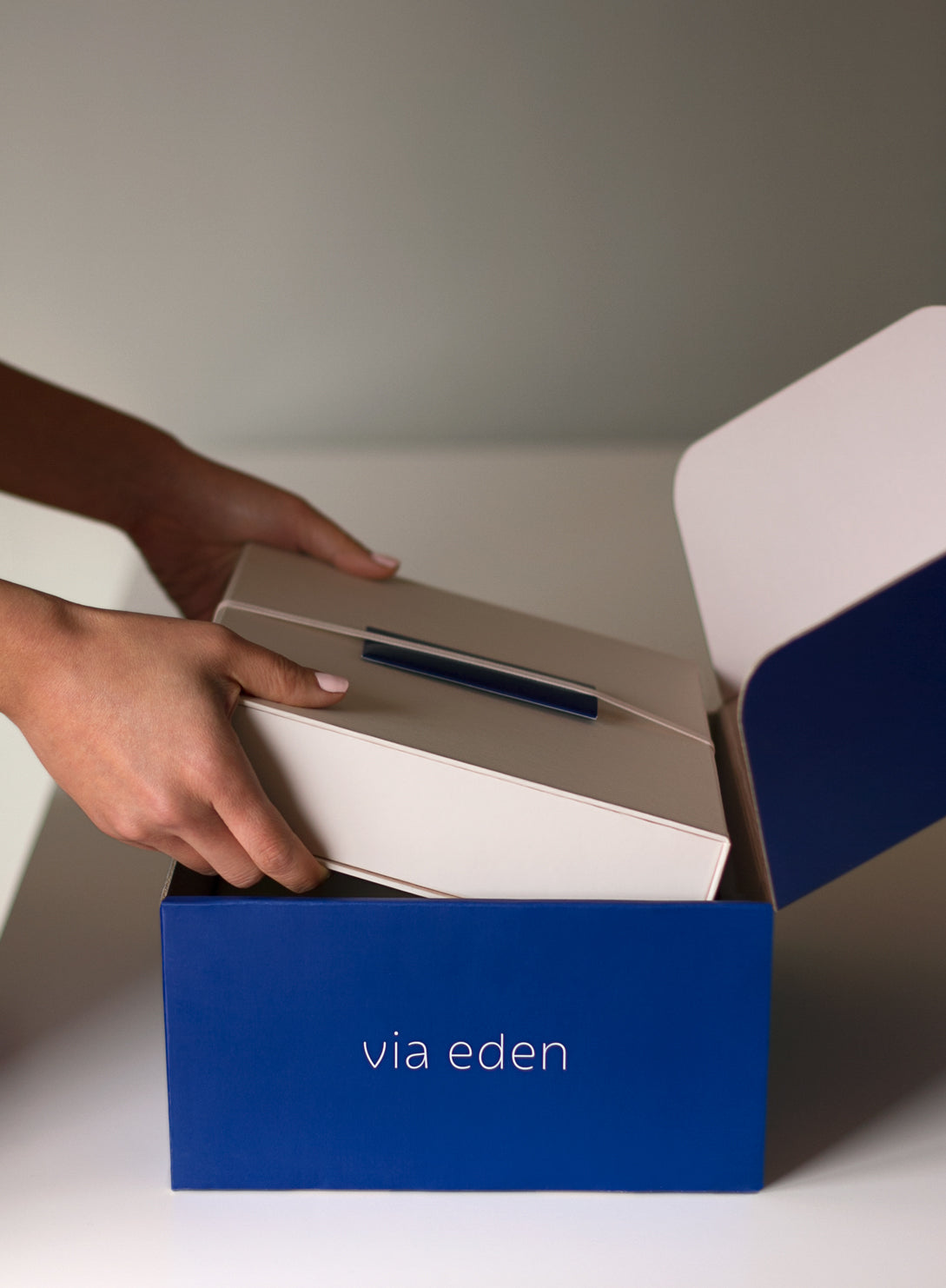 The customer is at the core 
of our company and our ethos
Trying on and buying your Via Eden pieces should be as effortless and enjoyable as wearing them. We apply the same customer-centered focus we use to develop our swimwear to every aspect of your Via Eden experience and to how we run our company. Selling our collection directly to you online and at our trunk shows helps us stay connected to you and allows us to create swimwear that is truly reimagined.
A swimsuit is the ultimate intimate. It is as form-fitting as lingerie but worn for the whole world to see. There is no piece of clothing in our wardrobe that we require more from. Yet with swimwear, we so often settle for less.
Your bikini or one piece should fit as if it was custom made for you. It should make you look and feel beautiful, confident and comfortable. You should be able to surf in Sumba or look effortlessly chic lounging by the pool. Your swimsuit should be luxurious and finely crafted. And the people who design, sew and sell swimwear should have a deep understanding of a woman's body, how it moves and what makes a woman look great.

Mali's lifelong obsession with swimwear and her quest to find pieces that embodied all these attributes, started us on our Via Eden journey in 2014. We spent a year learning why there was such a disconnect between the ideal of swimwear and the reality most of us face.  We visited fabric mills, factories, trim suppliers and other swimwear companies . We spent over a year fitting and testing swimwear on real women all over the world.

Via Eden has been a true labor of love (and sweat and sometimes, tears) for us and our team. We are so grateful and excited to share our hard-won knowledge and ideas with you.

We hope to meet you soon and we hope you are inspired by our vision of swimwear reimagined.
Mali & Cynthia
---
Our Founding Team
No man (or woman) is an island; and no great product can be created without a dream team of collaborators and friends.
A globetrotting bikini connoisseur from Hawaii. A sun protection-obsessed fashionista. A nationally ranked downhill skier turned fitness maven. A multi-disciplinary designer from Colombia. A perfectionistic creative director. Two competitive swimmers: one of them a fine artist; the other one, a veteran of French luxury companies.
As someone who spent her childhood in Hawaii and who has travelled to every continent with a bikini-worthy beach, it's no surprise Mali developed a lifelong love of swimwear. Her eternal quest for a better bikini resulted in a personal collection of hundreds of swimsuits (and an obsessive expertise) that inspire every piece we create. When she's not swimming with turtles in the Sulu Sea or paddle boarding around a Hawaiian bay with her husband and daughter, she can be found in our Soho office drinking homemade plantation ice teas and serving as our fearless, fit-obsessed leader.
A successful entrepreneur, wife and mother of three girls and a rescue dog, Cynthia loves running and trail hiking as much as she loves fashion and design. Always effortlessly chic and perfectly turned out, Cynthia refuses to downgrade her style when she puts on swimwear. Our rash guards and jacket are a tribute to her incredible style and deep fear of UV exposure.
A former competitive alpine skier and our in-house fitness guru, Anya has taken her Via Eden pieces snorkeling in Turks and Caicos, sailing in Australia, and crushing it in her favorite AKT, Barry's Bootcamp and SLT classes. When she's not putting our pieces to the test, Anya is our chief operating officer; leveraging the skills she developed in her previous careers in investment banking and interior design. Anya lives in New York City with her husband and three equally active daughters.
The sole man amongst half a dozen females, Jeff is our creative director and responsible for the visual articulation of our brand ethos and spirit. Jeff 's unwavering commitment to the customer and incredible design talent was developed at Apple, Anthropologie and Warby Parker. At Via Eden, Jeff oversees all our non-apparel design and creative direction. When he's not designing beautiful things to his exacting standards, Jeff can be found wandering the streets of the Condesa district in Mexico City, photographing the ruins at Angkor or cheering on his beloved World Series Champions Chicago Cubs.
A champion junior swimmer and fine artist, Alison has spent over a decade developing prints from her paintings and illustrations for major US fashion brands. Much of the beauty of our collection is derived from Alison's ability to combine artistry and function and her intuitive understanding of how her art can transform a piece of clothing. When she's not chasing after her adorable preschooler, Alison can be found tooling around Brooklyn in a Land Cruiser Defender covered in her husband's Hawaiian surf stickers.
A native of Colombia who lives in an industrial loft overlooking the water, Paola is a fashion designer who has also worked in production, retail consulting and interior design. Paola's belief in celebrating every shape and size of the female form and her inimitable joie de vivre can be seen in each piece she helped design. Paola wears her Via Eden pieces to swim, hike, jog and walk Blanca, her uber-friendly pup.
A lifelong swimmer and Francophile, Amanda started her career at L'Oreal in marketing before helping Pierre Herme expand internationally. Amanda first dreamed of turquoise seas and white sand beaches while at her rainy British boarding school. Amanda is often the first person to test out our pieces while open ocean swimming, holidaying in exotic locales and trail running.
---
We're here to help. Please contact us. We'd love to meet you.

Call

1-866-289-7678

Email

contact@viaeden.com
We're here Monday through Saturday, 11 a.m. to 9 p.m ET.